Marion C. Hoppin Library of Jungian Psychology
The library, a bequest from founding member Dr. Marion C. Hoppin, contains 3000 books and periodicals on Jungian related topics, and is housed within the Argosy University Library at 5250 17th St., Sarasota.  Enter the main entrance and take the elevator to the 2nd floor.  The library may be accessed by C. G. Jung Society members for browsing, reading, and book check out any time during Argosy University Library hours. Select volumes are available for on-site research use only.
For more information, call Candace Boyd at 941-312-9062.
Browse Library Contents by:
Book Lists updated February 7, 2008
Book Lists are in searchable PDF document form.
To search within a PDF document click the binocular icon

 on the toolbar to open a Search window wherein you can type a key word or phrase. All instances in the document will be displayed in the search window and will appear highlighted on the page being displayed. Note that you will only be searching the document that is currently open.
The Marion C. Hoppin Library of Jungian Psychology is privileged to offer two generously donated copies of C. G. Jung's The Red Book available for on-site research.
The Red Book is unique in the detail the reader learns about Carl Jung's life as he pursued a relationship with his Self. Because he was first a scientist, Jung gives a detailed account of how he encountered his psyche through dreams, active imagination and art. He records how his psyche responds to the outer events of the world at war. He uses The Divine Comedy, Faust, and The Odyssey in his text as well as responding to Thus Spoke Zarathustra and to Nietzsche's proposition that for modern man, God is dead. Jung's response is that God is neither dead nor to be found in outer religious, national or political containers but is to be discovered and struggled with in the living of each individual life.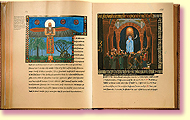 It is so appropriate that this is physically a very large book with beautiful color representations of Jung's art on quality paper. One reviewer familiar with all of Jung's collected works said, "The Red Book is that much, much larger, more nuanced and tremendously numinous structure that is behind, under, around and the foundation for all of Jung's subsequent ideas, theories, publications and works. Extraordinary." This truly is a treasure that has been buried too long.